220 Santa Fe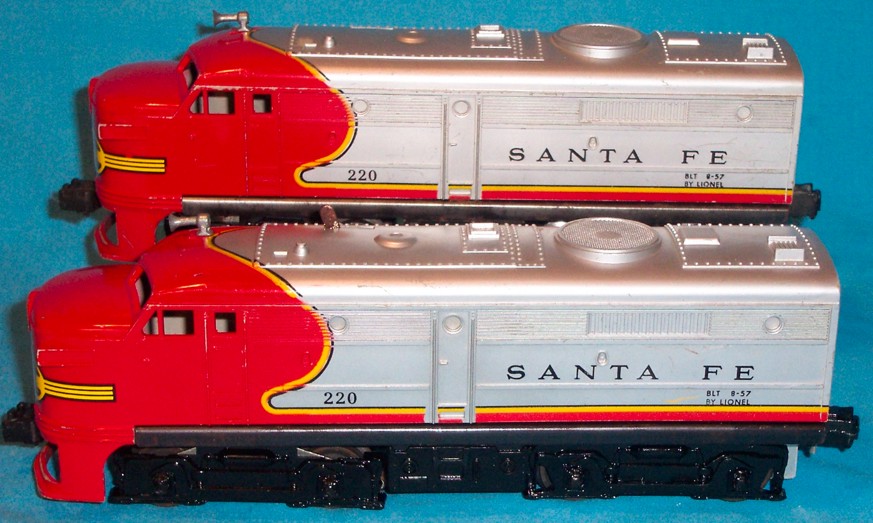 Production: 1960 & 1961
History
The 220 Santa Fe Alco diesel had a very brief production run during the early 1960's. Although this diesel is not included in the 1960 consumer catalogue, it is believed to have been available in a limited number of uncatalogued sets for this year. For 1961, the 220 did appear in the Lionel catalogue. Due to it's brief production cycle, the 220 is a fairly hard diesel to locate.
The 220 Santa Fe is a slightly scaled-down version of Lionel's 218 Santa Fe diesel. The main difference being the 220 does not have a functional horn -- which is included in the 218 diesel. Many operators will purchase a 218C 'B' unit for these diesels, thus creating an impressive ABA diesel set.
The 218 Santa Fe is an excellent running locomotive. However, these later-style Alcos clearly lacked the quality, detail and durability of the Lionel Alco diesel produced in the early 1950s.
Features
The 220 Santa Fe included one powered unit and one non-powered unit. Standard features on each unit include: silver and red painted body with black lettering plus front and rear non-operating couplers. The powered unit was also equipped with two-axle Magnetraction, three-position E-unit plus an illuminated headlight.
As with most of the later Alco-series diesels, the front aprons are usually the weak point. They are frequently found cracked, broken or completely missing. Any later series Alco with intact aprons are difficult to locate.
Additional Detail, Photos & Box Information
The 220 Santa Fe diesel is believed to have been included as a single A unit in some uncatalogued sets or as an AA diesel when sold as a separate sale item.
The length of the 220 Alco units when coupled together is approximately 23" long (coupler to coupler).
AA Diesel Units - Shown in the photo above - Experienced collectors believe the AA combination was only produced in 1961. All were painted silver and red with black lettering.
Single A Diesel Units - When included in some uncatalogued sets, the 220 was sold as a single A unit diesel.
This site brought to you by:

Click on their logo to view high quality postwar Lionel trains for sale