222 Rio Grande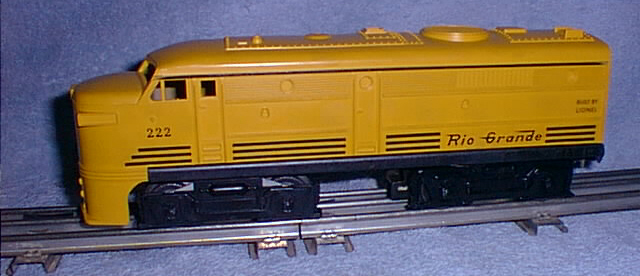 Production: 1962
History
The 222 Rio Grande only appeared in the 1962 Advanced Lionel catalogue. It has few features and has limited interest by today's collectors. Finding a collectable version will take some effort, but the prices tend to be reasonable.
Features
Standard features of the 222 Rio Grande include: yellow painted body with black lettering, closed front pilot with ledge, traction tire, illuminations and no E-unit (forward only). It also lacks a frame box between the trucks.
Additional Detail, Photos & Box Information
Only Known Variation - Shown in the photo above - All 222's are painted yellow with black lettering.
This site brought to you by:

Click on their logo to view high quality postwar Lionel trains for sale