225 Chesapeake & Ohio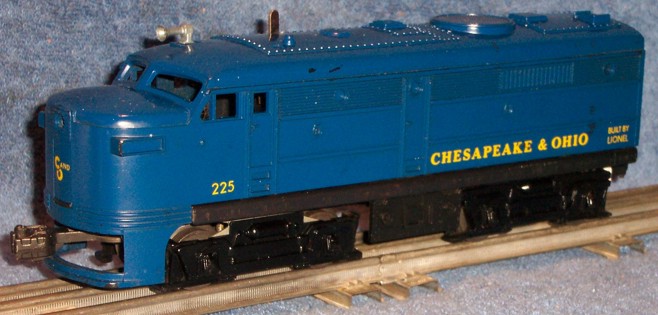 Production: 1960
History
The 225 Chesapeake & Ohio Alco A is a one year only diesel from 1960. It is considered a reliable locomotive and with dual axle magnetraction, it's generally considered a decent locomotive being able to pull a handful of postwar freight cars. However, this diesel is a somewhat hard item to locate in collectable condition.
Features
Standard features on the 225 Alco include: open front pilot with a fixed die-cast coupler, two-axle magnetraction, two position E-unit plus a headlight and non-operating rear coupler. It is painted dark-blue with yellow numbers and lettering and a C&O decal on the nose.
Unlike the 230 C & O Alco produced in 1961, the 225 does not have a yellow stripe near the roofline.
Additional Detail, Photos & Box Information
Only Known Variation - Shown in the photo above - All 225's are painted dark-blue.
This site brought to you by:

Click on their logo to view high quality postwar Lionel trains for sale