227 Canadian National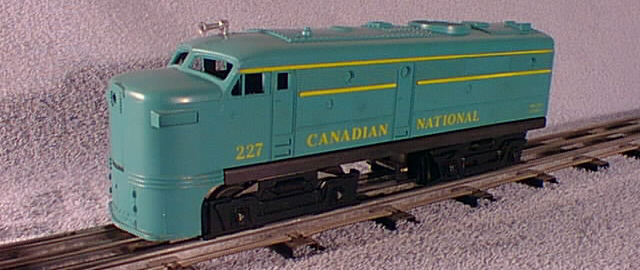 Production: 1960
History
The 227 Canadian National Alco A was one of the first uncatalogued locomotives Lionel produced to market to a specific part of the world. In the case of the 227, Lionel was looking to expand into the Canadian marketplace with an inexpensive locomotive. The 227 is a reliable running locomotive but cannot be used for the long hauls. This locomotive is usually limited to three or four light freight cars!
Features
The 227 is a stripped down locomotive with limited features. Its features (or really lack of features!) include: painted green shell with yellow lettering, headlight, dummy rear coupler only and a weight riveted to the rear of the shell for traction enhancement. There is no magnetraction or traction tire and no e-unit, so it's forward only!
Additional Detail, Photos & Box Information
No Variations - Shown in the photo above - All 227's are painted green with yellow lettering.
This site brought to you by:

Click on their logo to view high quality postwar Lionel trains for sale