232 New Haven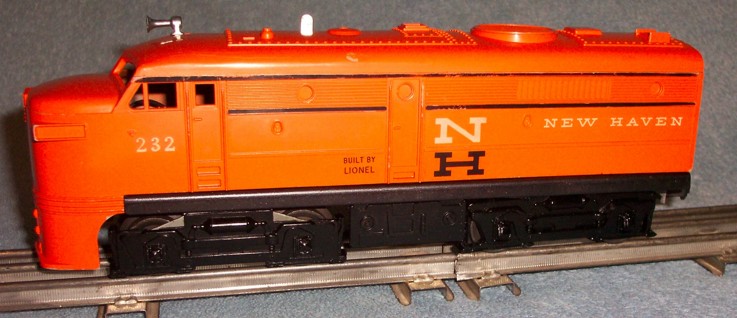 Production: 1962
History
The 232 New Haven Alco A is a one year only locomotive from 1962. It is a reliable diesel and a relatively good puller with it's dual axle magnetraction. As with most locomotives produced for a single year, it is a somewhat hard item to find, especially in collector condition.
Features
Standard features on the 232 Alco include: orange-painted body with two thin black stripes on each side, black and white lettering on the logo, closed front pilot, two-axle magnetraction, two position E-unit plus a headlight and non-operating rear coupler.
Additional Detail, Photos & Box Information
Only Known Variation - Shown in the photo above - All 232's are painted orange.
This site brought to you by:

Click on their logo to view high quality postwar Lionel trains for sale