601 Seaboard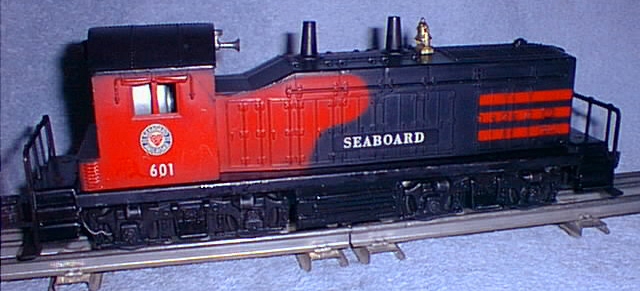 Production: 1956
History
The 601 Seaboard NW2 Switcher was introduced in 1956 as an O gauge diesel. The external appearance it is very similar to the 602 Seaboard switcher offered in 1957. Of the two Seaboard switchers, the 601 is preferred as it has dual operating couplers -- a feature lacking on the 602.
In addition to being included in one 1956 set, the 601 was also available as a separate sale item.
Features
Standard features of the 601 Seaboard switcher include: black and red painted body with white lettering, two-axle Magnetraction, die-cast trucks, three-position E-unit dual operating couplers and a functional horn. The 601 shell is mounted to a black frame with black end-railings; it does not have a working headlight. A simulated gold bell and ornamental silver horn are mounted on the shell.
Additional Detail, Photos & Box Information
The length of the 601 is approximately 12 1/2" long (coupler to coupler).
Square Red Stripes - Shown in the photo above - The most common version.
Rounded Red Stripes - A harder variation to locate.
This site brought to you by:

Click on their logo to view high quality postwar Lionel trains for sale