2321 Lackwanna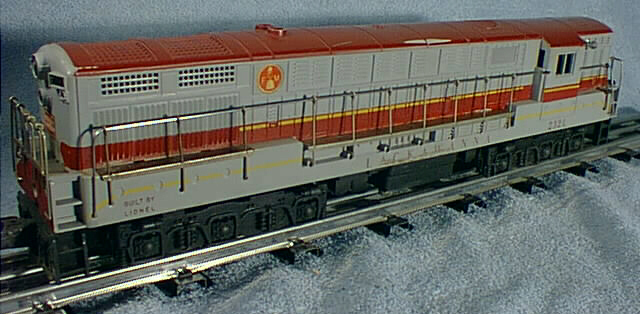 Production: 1954 - 1956
History
The 2321 Lackawanna is a beautiful and almost scale size replica of the real life Trainmaster. Lionel's version has a well-deserved reputation as being an excellent locomotive with unsurpassed durability and strength. It is prized diesel by most collectors. It is also one of Lionel's best diesels ever produced in the postwar era.
The most common problem with the Lionel's Trainmasters are the screwholes on each end of the shell. In almost all cases, there are hairline cracks going from the bottom of the screwhole to the bottom of the shell. To find any unit without hairline cracks is rare.
The first production run of 1954 included a more prototypical version with a maroon roof. Because the manufacture process could be shortened by eliminating this production step, the maroon roof was quickly eliminated. From early 1954 until the end in 1956 all remaining units had a gray roof. The maroon roof versions are hard to find and remain in demand by both the collector and operator.
Features
Standard features of the 2321 include: dual motors, magnetraction, three position E-unit, headlights at each end including illuminated number boards, dual operating couplers, horn plus wire handrailings and an ornamental horn on each side.
Additional Detail, Photos & Box Information
Maroon Roof - Shown in the photo above - It is estimated the first production cycle of 1954 included the maroon roof version. This is a hard to find version.
Gray Roof - For the remainder of the production cycle, the gray roof became the standard 2321 Lackawanna. This is far more common than the maroon roof version.

This site brought to you by:

Click on their logo to view high quality postwar Lionel trains for sale