3360 Burro Crane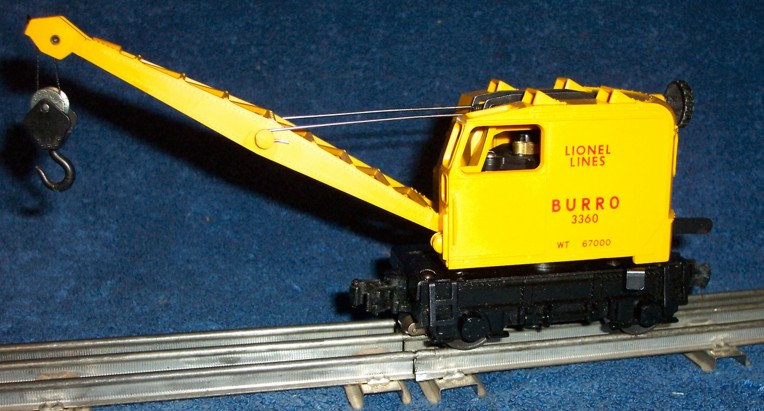 Production: 1956 & 1957
History
The 3360's design is based upon a real-life, self-propelled crane car frequently seen in the United States during the 1950's. It's prototypical looks -- especially when coupled with one or two freight cars -- makes for a very realistic scene on any layout.
Many feel the 3360 is the premium crane car produced during the postwar era. Not only did Lionel's model resemble a real-life Burro crane, but could performed many of the same functions. The crane can travel in forwards or reverve, can stand in a neutral position, the cab can rotate 360 degrees and the hook can raise or lower based upon a unique internal assembly.
The 3360 is well-known for its extremely complicated and unique internal clutch and gear assembly. Most Burro cranes are tempermental to operate and many simply do not work. Obtaining a complete, fully functional and all original crane will require many hours of searching.
Features
Standard features of the 3360 Burro crane: unpained yellow body and boom, red lettering and a motorized, two-axle base with two non-operating diecast couplers. The height of the boom is manually raised and lowered, but most other functions can operate automatically.
Also included with the 3360 was one track activator. This track activator is different in size compared to the more common track activator for the 55 Tie-Jector car.
Additional Detail, Photos & Box Information
Unpainted Yellow Cab & Boom - Shown in the photo above. - The common version has an unpainted yellow cab and boom.
Painted Yellow Boom - A very rare version of the 3360 exists with a gray boom painted yellow.
This site brought to you by:

Click on their logo to view high quality postwar Lionel trains for sale