3927 Track Cleaning Car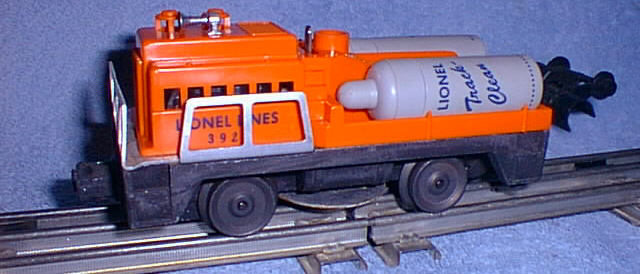 Production: 1956 - 1960
History
The 3927 Track Cleaning Car was a newly designed item produced by Lionel in 1956. It is an interesting concept car -- but not based upon any real-life motorized unit.
Features
Standard features of the 3927 Track Cleaning Car include: unpained orange body with black lettering, die-cast frame, on/off switch pertruding through the top controlling the rotating sponge located under the car, movable rear wiper carriage plus an ornamental horn with a single non-operating die-cast coupler. The unit also includes two removable gray bottles with blue lettering -- which contain the solution for cleaning the track.
Contrary to popular belief, this is not a self-motorized unit. It must be coupled to an engine and pulled around the track. The motor located in the track cleaning car is used to rotate the sponge located under the car.
Additional Detail, Photos & Box Information
Only Known Variation - Shown in the photo above. - All Track Cleaning Cars have and orange body with black lettering.
This site brought to you by:

Click on their logo to view high quality postwar Lionel trains for sale