50 Gang Car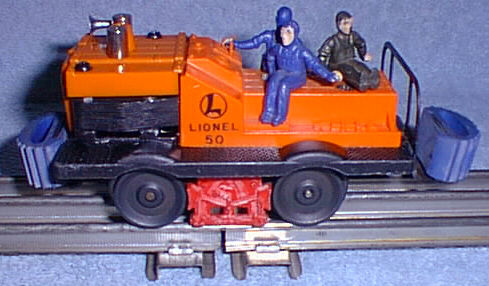 Production: 1954 - 1964.
History
The 50 Gang car is a unique item created by Lionel. It is a small and inexpensive self-motorized unit creating plenty of action on a layout. With the Gang Car being sales success -- along with its ability to operate as an independant unit -- Lionel soon introduced several other self-motorized units into their consumer line. Products such as the 60 Trolley; 65 Handcar and 68 Executive Inspection Car are just a few examples where the small, self-motorized theme was used on other Lionel trains.
The 50 Gang Car is a reliable and durable item. With only general maintenance, the Gang Car has proven to be a solid performer.
Features
The 50 Gang includes the following standard features: orange molded body, die-cast frame, two stationary and one moveable crewmen and a rubber bumper on each end.
As the production cycle evolved, so did the variations. Listed below are some of the more significant changes along with the estimated year of change:
Ornamental Chrome Horn - For 1954, the horn was a two-piece assembly and mounted in the center of the brushplate cover. For 1955, the horn became a single unit and mounted on the right. Center horn versions are difficult to locate.

Bumpers - Early production versions -- estimated to be for a portion of 1954 -- were gray. All later production bumpers were blue.

Bumper Bracket - From 1954 until 1959, the bumper bracket was U-shaped. Beginning in 1960, the bracket was converted to an L-shape.

Crewmen - The common version has two stationary crewmen and a rotating olive man. The rare version -- from 1954 -- has two stationary olive crewmen and a rotating blue man.
Additional Detail, Photos & Box Information
Numerous Variations - There are numerous variations to the 50 Gang Car. The information above highlights the commonly accepted variations and below are a couple examples of the many variations:
Center Horn - 1954
Horn on Right - 1955 - 1964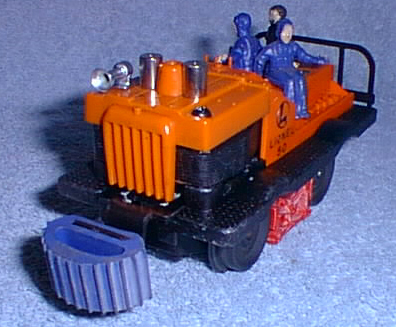 This site brought to you by:

Click on their logo to view high quality postwar Lionel trains for sale