520 Boxcab Electric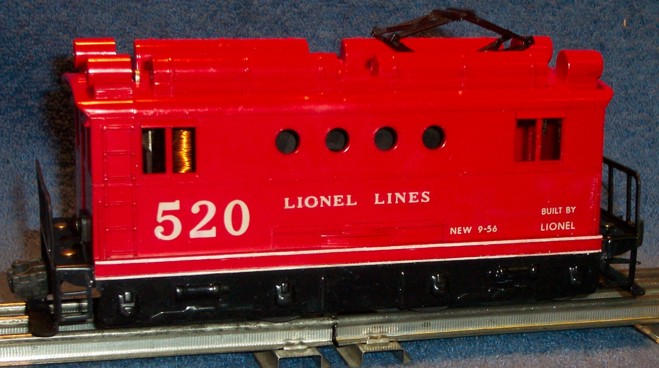 Production: 1956 & 1957
History
The 520 Boxcab Electric engine was a newly designed railroad item produced by Lionel in 1956. It is based upon a real-life boxcab engine built by General Electric and sold to a company in South America. Surprisingly, Lionel's model is an excellent copy of its real-life counterpart.
Features
The 520 Boxcab electric engine ran unchanged for both years. Standard features include: 2-4-0 wheel arrangement, unpainted red body with white lettering, three-position E-unit, operating coupler at one end and a die-cast non-operating coupler at the other end plus a single pantograph on the roof. The pantograph is a fragile item is usually broken or missing. Finally, there is no headlight on the boxcab.
Additional Detail, Photos & Box Information
The 520 is a peppy-little engine capable of pulling a reasonable size train and is stronger than most of the other motorized units offered by Lionel during the postwar era.
Only Known Variation - Shown in the photo above. - All 520s were unpainted red with white lettering.
This site brought to you by:

Click on their logo to view high quality postwar Lionel trains for sale