53 Rio Grande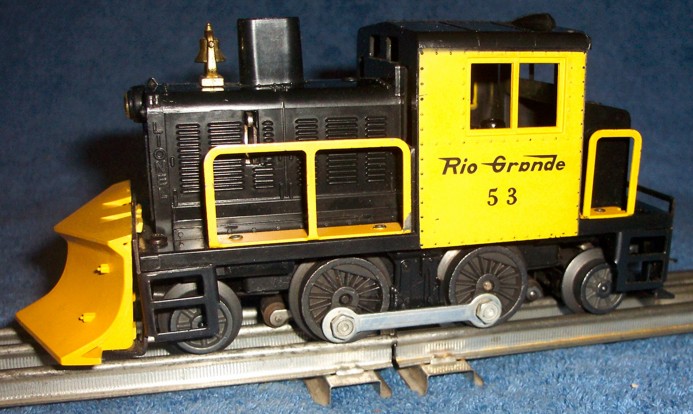 Production:
1957 - 1960
History
The 53 Rio Grande Snowplow Switcher was produced for four years in the late 1950s. These small locomotives -- generally referred to as Motorized Units -- are loosely design after a real-life gas Vulcan switcher of the 1950s.
Lionel's model, similar to the real-life version, was small and had limited pulling power. On average, it could only pull two or three freight cars. Lionel only offered the 53 as a separate sale item and never in a set.
The 53 is unique in that its front coupler was replaced by an all-new snowplow. This concept -- of slightly modifying an existing product to create a newer product -- was frequently done by Lionel during the postwar era to keep their product line looking new or enhanced from year to year. With prototypical yellow and black colors, the Rio Grande snowplow has become a favorite of both collectors and operators.
Features
The 53 Rio Grande snowplow has the following standard features: 2-4-2 wheel arrangement, unpainted black body with yellow painted sections and black lettering, three-position E-unit, yellow side railings, low rear railings, operating rear coupler, metal side rode connecting the drive wheels plus an ornamental bell and yellow snowplow on the front. This locomotive was produced for four years and did not include magne-traction nor interior illumination.
There is a interesting note regarding the spelling of Rio Grande on the side of the cab. The common variation has the letter 'a' backwards. However, there is a variation where the letter 'a' is printed correctly. This 'correctly printed letter 'a' is a rare variation.
Additional Detail, Photos & Box Information
A common problem with this locomotive are the thin window struts on each side of the cab. These struts are quite frequently found cracked or completely missing. Units with intact window struts will command a slight premium.
Backwards Letter 'a' - Shown in the photo above. - The common variation.
Correctly Printed Letter 'a' - A rare variation and very difficult to locate.
This site brought to you by:

Click on their logo to view high quality postwar Lionel trains for sale