54 Ballast Tamper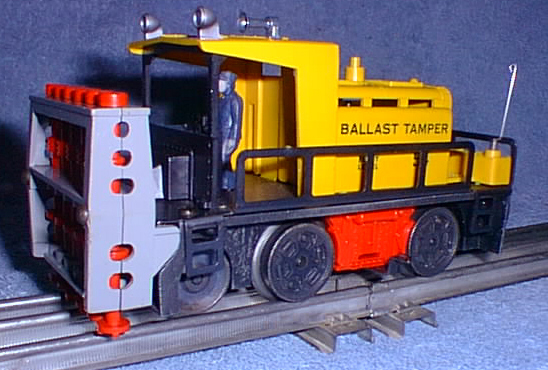 Production: 1958 - 1961 & 1966 - 1969
History
The 54 Ballast Tamper Motorized Unit was introduced item by Lionel in 1958 and remained in the postwar line for most of the remainder of the postwar era. It is an interesting model which is loosely based upon a real-life work train. This work train would assist railroad crews when compressing roadbad -- also known as ballast -- on newly installed track.
Activation of the Ballast Tamper unit is through the use of two track-side activation clips. As the unit passes the first the first activator, the front red tampers begin to move up and down -- simulating the tampering of road ballast. This process continues until the unit has passed the second track-side clip -- at which point it will turn off the tampering action.
The Ballast Tamper unit included a non-operating rear coupler and is designed to pull only a single freight car -- or possibly two light-weight freight cars. Anything more than this usually causes the motor to overheat.
Features
Standard features of the 54 Ballast Tamper include: yellow molded body with black lettering, ornamental horn, flexible antenna on the rear, red tampers housed in a gray structure on the front, blue man in the cab and a single non-operating coupler on the rear. This unit only travel forward and operates in two speeds.
Also included with the Ballast Tamper are two track-side activation clips.
Additional Detail, Photos & Box Information
Only Known Variation - All Ballast Tampers are yellow with black lettering.
This site brought to you by:

Click on their logo to view high quality postwar Lionel trains for sale