69 Maintenance Car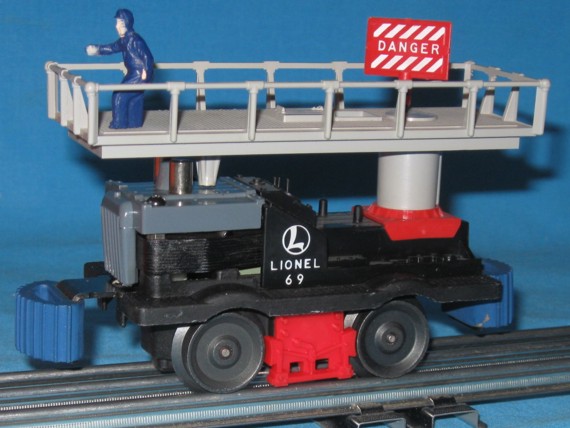 Production: 1960 - 1962
History
The 69 Maintenance Car is an example of Lionel's skilled engineering team being able to create a new product based upon existing parts and trains. An experienced collector will immediately notice the lower portion is based upon the 50 Gang Car while the upper platform structure was taken from the 6812 Track Maintenance Car.
As with several of Lionel's small, self-motorized unit, this item had the ability to create plenty of action on a layout. Only requiring an independent section of track, with a bumper at each end, the Maintenance Car could be set up anywhere on a layout. Unfortunately, it never gained the same popularity as the 50 Gang Car and was removed from the product line after a few years of production.
The 69 Maintenance Car is a reliable and durable item, however the upper platform structure is extreme fragile. Locating a complete, undamaged Maintenance Car is difficult. Additionally, its original box and instructions are almost as difficult to find as the item itself.
With only general maintenance, the Maintenance Car is a proven and solid performer. Products such as the 50 Gang Car, 60 Trolley, 65 Handcar and 68 Executive Inspection Car are just a few examples where the small, self-motorized theme was used on other Lionel trains.
Features
The 69 Maintenance Car includes the following standard features: black molded body with white lettering, dark grey brushplate cover, die-cast frame and a rubber bumper on each end.
The upper platform structure is light grey and included a blue man and red warning sign. The rotating red sign was marked Danger on one side and Safety First on the opposite side. The sign is very fragile and changes directions when the car hits a bumper.
Additional Detail, Photos & Box Information
Only Known Variation - Shown in the photo above - All Maintenance Cars have a black body, white lettering and light grey platform.
This site brought to you by:

Click on their logo to view high quality postwar Lionel trains for sale