646 Hudson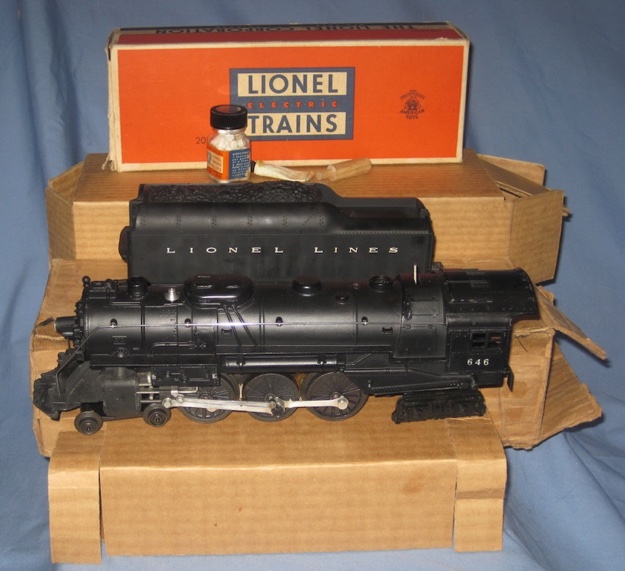 Production: 1954 - 1958
History
The 646 steamer was classified by Lionel as a Santa Fe-style Hudson. It's a mid-size steam engine and sold as an O gauge item. The 646 remains a dependable and quality locomotive and is identical to the 2046 and 2056 steamer, except for its number. These three locomotives -- the 646, 2046 and 2056 -- are actually a combination of other Lionel steamers: their boilers are from the 736 Berkshire steam engine, but are equipped with the Santa Fe Hudson 4-6-4 wheel arrangement.
The 646 steam engine was available in boxed sets or as a separate sale item. It is the least common of the three steamers -- the 646, 2046 or 2056. Because the 646 was marketed as an O gauge item, total sales were always fewer when compared to its 027 equivalents -- the 2046 and 2056.
Features
Standard features on the 646 include; 4-6-4 wheel arrangement with detailed driving wheel hardware, black painted die-cast boiler, Magnetraction, three-position E-unit, headlight, smoke, wire handrails plus an ornamental bell and whistle.
For 1954, the trailing truck was an all die-cast unit. For 1955 thru 1958, the truck was changed to a combination of sheet metal and plastic side frames.
The 646 was only sold with the 2046W whistling tender. However, for a brief time in 1957 or 1958, the 2046W tender was produced with 2046W printed on the side of the tender shell. Although not rare, this version of the 2046W tender is harder-to-find than the regular production verion without the 2046W printed on the sides.
Additional Detail, Photos & Box Information
The length of the 646 is approximately 11 1/4" long (front to back).
Die-Cast Trailing Truck - For the first year of production, the 646 was produced with a complete die-cast trailing truck.
Sheet Metal & Plastic Trailing Truck - Shown in the photo above. - For the final three years of production, the trailing truck was a combination of sheet metal with plastic side frames. This is the more common version.
This site brought to you by:

Click on their logo to view high quality postwar Lionel trains for sale