685 Santa Fe Hudson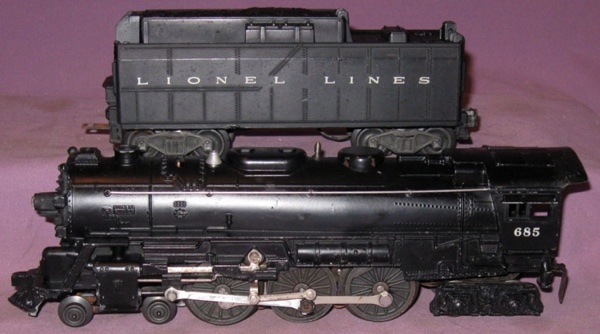 Production: 1953
History
The 685 steamer was classified by Lionel as a Santa Fe-style Hudson. It's a mid-size steam engine and sold as an O gauge item. The 685 remains a dependable and quality locomotive. With the exception of the cab number, the 685 is the same locomotive as a 2055. Those two locomotives share their boiler castings with two other Lionel locomotives, the 665 and 2065 steamers -- the difference being the boiler fronts.
The 685 steam engine was available in boxed sets or as a separate sale item. It is a somewhat uncommon steamer as it was only available for a single year. The only tender sold with the 685 was the 6026W square or coffin style tender.
Features
Standard features include; 4-6-4 wheel arrangement with detailed driving wheel hardware, Magnetraction, three-position E-unit, headlight, smoke, wire handrails plus an ornamental bell and whistle. The trailing truck was always produced with plastic side frames.
Additional Detail, Photos & Box Information
The length of the 685 is approximately 11 1/4" long (front to back).
Only Known Variation - Shown in the photo above. - The 685 did not undergo any changes during its production run.
This site brought to you by:

Click on their logo to view high quality postwar Lionel trains for sale