773 Semi-Scale Hudson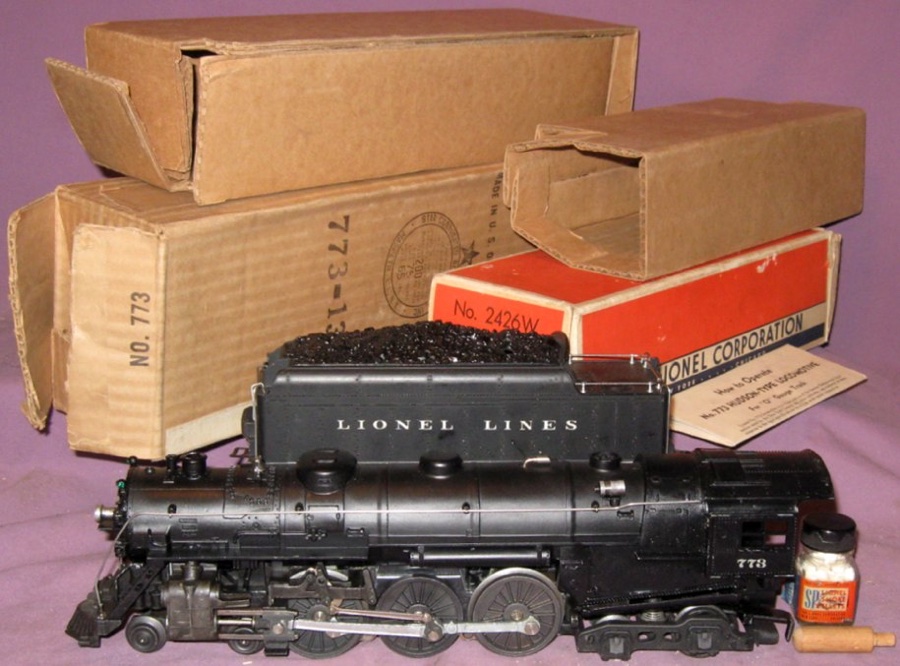 Production: 1950 & 1964 - 1966

History
The 773 steam engine is the pinnacle of Lionel's postwar steam locomotive production. It was introduced in 1950 as Lionel celebrated their Golden Anniversary -- 50 years as a corporation.
The 773 is the largest steamer ever built during the postwar era. It is similar in design to the prewar 763, is scale-like in size and includes all of the popular postwar features such as magnetraction and smoke. Additionally, the 1950's version with the 2426W tender represented Lionels most detailed postwar tender.
Most collectors and operators refer to the 773 as The Hudson. Although the Hudson has been reproduced by Lionel and other manufacturers in recent years, the original continues to be a coveted and sought-after item.
Features
The 773 Hudson has the following standard features: black painted die-cast shell with white numbers, full compliment of driving hardware, spoked drivers, die-cast rear trailing truck, Magnetraction, three-position E-unit, opening boiler front, plus a functional headlight, smoke and an ornamental bell and whistle.
A unique feature on the Hudson is its cowcatcher. The Hudson is the only postwar steamer to feature an open grill -- just like an actual steam locomotive!
The 773 underwent two changes between the 1950 and mid-1960's production run. The following summarize the changes:
Value Guide - The 1950 Hudson has an additional valve guide molded to the front steam chest. During the mid-1960's run, this additional value guide was eliminated from the steam chest.

Whistling Tender - The 1950 version included the 2426W Lionel Lines 12-wheel semi-scale tender. In the mid-1960, the Hudson was paired with an eight-wheel 773W New York Central streamlined tender. The early 2426W is generally preferred by operators and collectors because of its scale-like proportions and extra detail not included on the 773W tender..
Additional Detail, Photos & Box Information
Additional Valve Guide - Shown in the photo above. - Generally the preferred version as it includes the more realistic 2426W tender.
Without Additional Valve Guide - Although catalogued for 3 years, it is believed to only have been manufactured in 1964 and 1965.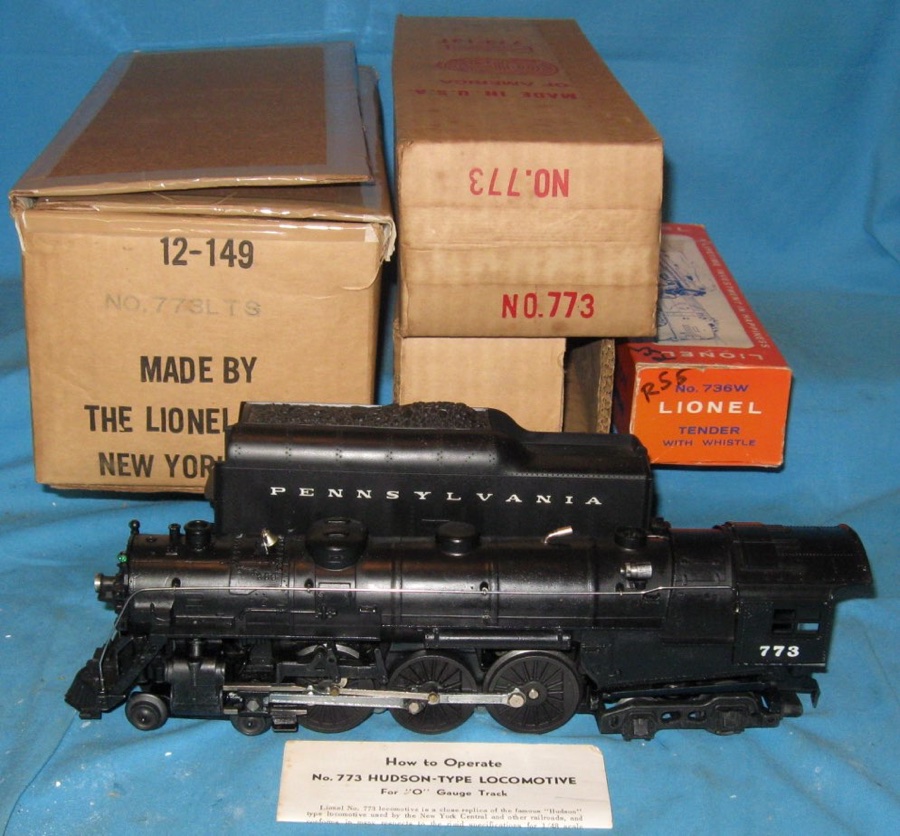 This site brought to you by:

Click on their logo to view high quality postwar Lionel trains for sale