2440, 2440, 2441 Tinplate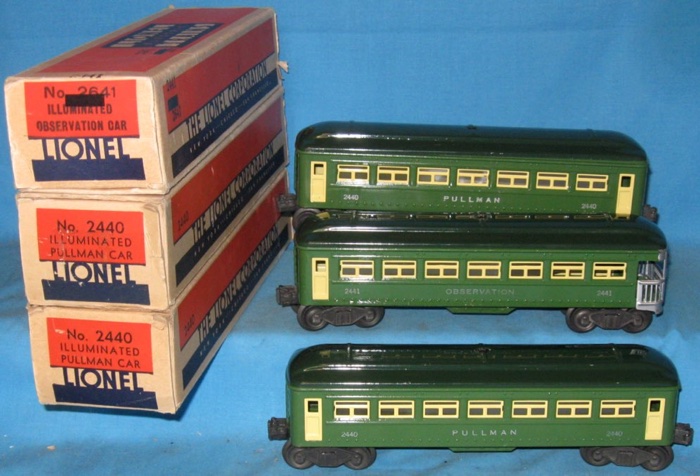 Production: 1946 & 1947
History
The 2440 pullman and 2441 observation passenger cars are a carryover of Lionels prewar sheet-metal passenger cars originally produced from 1938 through 1942. The only change to the postwar verison is the trucks and couplers were updated to Lionels staple-end truck with knuckle coupler. When sold as a set, Lionel always included two 2440 pullman cars along with a single 2441 observation car.
These early postwar all-metal style passenger cars carried over much of the charm and toy-like characteristics of their prewar cousins. Although they were soon replaced in the postwar ear with more realistic and detailed looking plastic passenger cars, there is still a large audience preferring these classic, all-metal Lionel passenger cars.
Features
Standard features on the postwar 2440 and 2441 passenger cars include: green painted bodies with dark green painted roofs, cream painted doors and windows, non-silhouetted plastic window inserts, interior illuminated plus staple-end trucks. The pullman car included coil couplers at each end while the observation car has only one coupler.
Additional Detail, Photos & Box Information
Only Known Variation - Shown in the photo above - All 2440's are green with darker green roofs and cream windows and doors.
This site brought to you by:

Click on their logo to view high quality postwar Lionel trains for sale