2481, 2482, 2483 Streamlined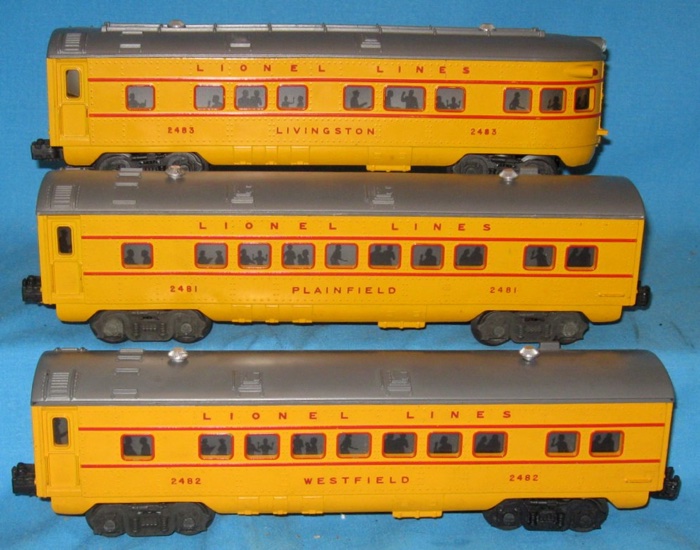 Production: 1950
History
The 2481 Plainfield pullman, 2482 Westfield pullman and 2483 Livingston observation cars are part of a three car set produced by Lionel for only a single year; 1950. Since 1950 also marked Lionel's 50th year as a corporation, this highly collectable passenger set is frenquently referred to as the Anniversary Set. Additionally, this set also introduced an all new diesel into the product line; the 2023 Union Pacific Alco.
Lionel modeled this set after the latest streamlined passenger cars hitting the American railroads in the mid-1940s. The 2481, 82 & 83 outfit remains a highly prized and rare passenger set. Locating clean and collectable versions is extremely difficult. Additionally, its yellow and red paint are easy to nick, mark or chip and most of these passenger cars are found in less than collectable condition.
Features
Standard features on the 2481, 2482 & 2483 passenger cars include: yellow painted body with two narrow red stripes and red window outlines, gray painted roof, red lettering, silhouetted window strips, die-cast passenger car trucks with operating couplers plus interior illumination.
Additional Detail, Photos & Box Information
Original boxes for these passenger cars are rarer than the cars themselves, be prepared to look for a long time for a nice set of individual component boxes.
Only Known Variation - All Anniversary Cars have painted yellow bodies, red side accents and a gray-painted roof.
This site brought to you by:

Click on their logo to view high quality postwar Lionel trains for sale